Fall Scrapbook & Crafts Retreat
October 28-30 is the only Fall Scrapbook and Crafts Retreat | $150 per person/session
Crafter or scrapbooker, beginner or advanced, and young or old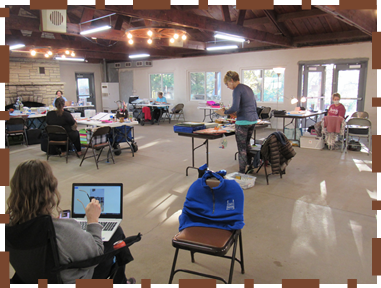 are all invited to come for a weekend of creativity and friends. Learn new techniques from experienced scrapbookers and share tools crafty folks love. Join in a Make-n-Take workshop or take a walk to enjoy nature. Friday supper is the first meal served.
There is only one Fall Scrapbook and Crafts Retreat, October 28-30. Lodging will be in the Retreat Center and cropping/crafting will be in the Main Camp dining hall. Space heaters will be available for both areas since the repairs for the furnaces will not be complete by the beginning of November. Fees for the Scrapbook and Crafts Retreat have increased to $150 to meet higher costs and the use of multiple facilities. For those who find the increase prohibitive, there is an option to receive up to $25 in scholarship funds per person as part of the registration process.
Non-refundable, non-transferable pre-registration fee of $50 per person required.
Registration: 3:00 p.m. Friday
Retreat Closes: 5:00 p.m. Sunday
Fees: $150 per person/session
Fees include bed linens. Please bring your own towels and toiletries.
Early Arrival: $15 additional fee.
Single Person Room: $75 additional fee, as available, cannot use BAF discount.
**Bring a friend discount! Bring a friend and both of you get $5 off your registration fees! One discount per person; discounts will be given for groups of two who share a room.
Camp Mennoscah follows guidelines from government agencies. If government agencies restrict summer youth camps/retreats or a situation arises that is deemed unsafe, Camp Mennoscah will revisit the decision to have retreats. Wearing masks is expected.