Newton Mennonite VBS, BCMC to Host Production of Selah's Song: Admission Donations to go to M&M Project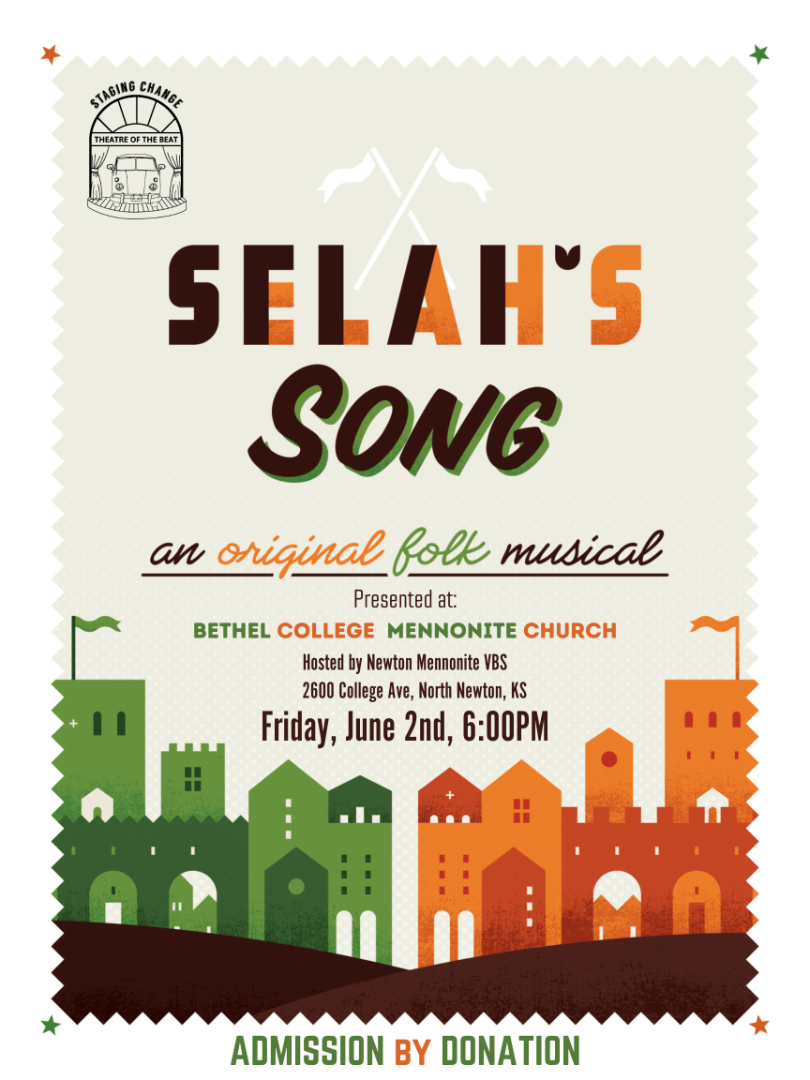 Selah's Song: An original folk musical from Theatre of the Beat, is to be performed at Bethel College Mennonite Church on Friday, June 2, at 6:00 PM. This musical will be hosted by the Newton Mennonite VBS. Admission will be by donation, and the proceeds will go toward the Camp Mennoscah M&M Project.
TOTB is proud to share Selah's Song! Written by Johnny Wideman, with original music by beloved Mennonite musician Bryan Moyer Suderman, Selah's Song tells the story of a young girl whose courage inspired a village and whose song became an anthem for peace. Inundated with catchy pro-war propaganda songs, Selah is inspired to share her own music with the village, creating some competition for the King. Selah's Song is a heartwarming musical that is fun for all ages!
Selah's Song was created with an incredible creative team including Director Erin Brandenburg, Designers: Ian Garrett, Kristine White, Ali Carroll, and Camila Farah, and Production Manager Cedric Martin, and with an all star cast including Malia Rogers, Sara Jarvie-Clark, Christina Leonard, and Zach Parsons.
Selah's Song was commissioned and produced by Community Mennonite Church Stouffville in partnership with Nineteen on the Park Theatre in January 2014 as a community outreach event. Originally conceived as a 40-person musical, Theatre of the Beat is now revisiting it as a four-person show with puppets that can tour across North America.
Founded in 2011, Theatre of the Beat (TOTB) is a Canadian touring theatre company working to catalyze conversations on social justice and its intersection with the beliefs of the communities in which we find ourselves by staging change across North America and the World! Through an immersive cultural exchange of grassroots theatre, hospitality, and philosophy, the company empowers its audience to work towards a just future.