Apply Online Woo-hoo, summer camp! We're so excited to meet our 2020 summer staff! The summer staff positions are naturalist, crafts leader, lifeguard, grounds/maintenance, music leader, office, and all-round/media. Other positions include a Director of Support and a volunteer to catalogue snakes on camp grounds. Volunteer positions for counseling, kitchen staff, and maintenance/custodial . . .
November 15-17, 2019 | $94 per person
Crafter or scrapbooker, beginner or advanced, and young or old are all invited to come for a weekend of creativity and friends. Learn new techniques from experienced scrapbookers and share tools crafty folks love. Join in a Make-n-Take workshop or take a walk to enjoy nature. Friday supper is the first meal served. Please register by October 22. Don't hesitate, as these retreat often fill up. . . .
Current Highlights
We had an amazing summer, full of over 600 campers, 200+ staff and volunteers, and a whole lot of verenike casserole. We rounded out summer 2019 with our annual camp sing at Hoffnungsau Mennonite Church in Inman, KS and had our Annual Meeting in late September. Camp sing was a hoot, we chose songs this year with our . . . read more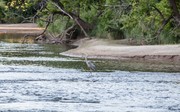 I don't know about you, but I come to camp for NATURE. For the sense of fullness you feel when surrounded by prairie grasses and riverside trees. For the stillness and an incredible view of the stars. For the sound . . . read more